Prescott Senior Softball
Annual Awards Banquet
Saturday, November 2, 2019

---
Wednesday, September 25th, 2019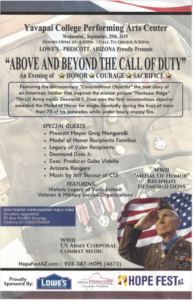 ---
We handed out around 400 flyers at 2019 Prescott 4th of July parade.
---
July 6th Parade

Prescott Senior Softball Float Participation

Saturday, July 6th is the annual Prescott Parade!
Our float plan is ready!
It is estimated that 45,000 people will line the streets of Prescott for the parade.
PSS has purchased new decorations for the float, three new banners and printed 700 flyers to recruit new players.
(The current flyer is attached if you would like to distribute it)
We need YOU to help out for a few hours that day.
There are several positions to fill.
-Sit on the float and wave to the people.
-Carry a banner (they are not heavy)
-Hand out flyers to eligible prospects to join our league.
Wear your team shirt and hat!
Bring your glove if you want to play catch!
This is a unique opportunity to bring in a new group of players.
Please set aside that morning to help out.
We are float 111 located in staging area 11. Parade Staging Map
The parade is a lot of fun and a great way to let folks know who we are!
Thanks for helping out!
---
PSS Golf Outing Results
Thanks to everyone who participated in the PSS Golf Outing. Hopefully, everyone enjoyed themselves and didn't lose too many golf balls on this challenging course. Three foursomes tied for first place with an overall score of 65. Based on results for the most difficult hole, the final winner (receiving 2 rounds of golf at StoneRidge for each member of the foursome) was:
Nicol
Robinson
Marshall
Moseley
Closest to the pin – men: McCarthy
– women: Carlin
---
Golf Outing
Wednesday, June 26
---
PSS PICNIC
AND
Annual Horseshoe Tournament
Wednesday June 12, 2019,  11:00 a.m. – 3:00 p.m.
Goldwater Lake Ramada – Free Parking
Tickets will be sold for 50/50 Raffle Drawing
Fried Chicken, Coffee, Soda, Ice, and water will be provided by PSS
---
April 29th, 2019
The rain Gods were kind this morning as Prescott Senior Softball honored Ernie Jones, past player, and president of The Yavapai Tribe opening day at the fields at Pioneer Park. Ernie passed away last year at age 75. He was a player and a sponsor of the Yavapai casino team. Former league president Lani Beach moderated the ceremony. The first pitch was thrown out by Ernie's wife Janet and daughter Iris. Photos compliments of Ted Gambogi
   


---
2019 PSS OPENING DAY-ERNIE JONES DAY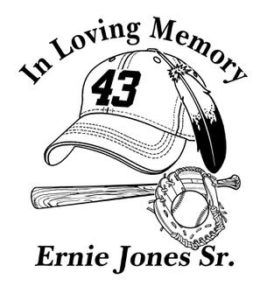 On Monday April 29th PSS will kick off the 2019 summer season. PSS will dedicate this season to Ernie Jones. Ernie was a long-time member of PSS, a tremendous supporter of the not only the PSS league but multiple travel teams, and huge supporter of youth sports and our Tri-city community.
Opening Day will be designated as ERNIE JONES DAY.
Janet & Iris Jones will throw out a ceremonial first pitch on field 1 after the playing of the National Anthem.
We would like to ask all PSS players to come out early on Monday April 29th and show your respect for Ernie and the Jones family. We would ask that all players arrive by 8:15, we will have AA players line-up along the foul lines in field 1, and AAA and Majors will line up along the edge of the infield and outfield. If any players have a Yavapai Cantina shirt or Bucky's shirt, we ask you wear it on opening day.
After the players are assembled on the field Lani Beach will say a few words, we will have a moment of silence, then we will play the National Anthem. After the Anthem Janet and Iris will throw out the first pitch and it will be time to play ball!
Thank you in advance for making this a special day.
---
Slow Start to 2019

No pick up games have been played in the month of February due to rain and/or snow. I believe this to be a first for Prescott Senior Softball. We played last on January 31st and not again until March 7th.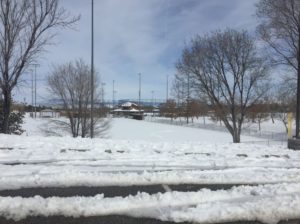 February 24th, 2019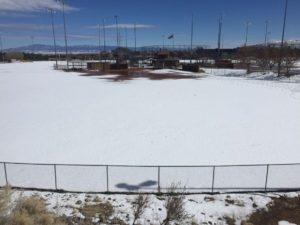 February 27th, 2019
---
Get the Word Out
It's never too early to begin recruiting new players to Prescott Senior Softball. Print a copy of our new and improved recruiting flyer and share it with people at your health club, new neighbors, and organizations where you belong.   
---
Majors Hot Stove Meeting 12-10-18

The following were main topics discussed at the Hot Stove Meeting:
1. Intentional Walks- Competition Committee recommends and PSS will adopt the "1 Up Home Run" Rule
"At no point in a game may one team have hit more than one more 'over-the-fence' home run than its opponent has hit to that point. Any batted ball which would be an 'over-the-fence' home run in violation of this limit shall, by rule, be a one-base hit with all runners entitled to advance one base."
2. Playoffs- many ideas brought forth, any change from the traditional double elimination will be the 4th change in 4 years. 2016 we played 2 of 3 format, 2017 first half winner vs second half winner, 2018 double elimination.
No final decision has been made at this point, number teams in the majors, and the new regular season schedule will be among some of the factors which the competition committee will take into consideration.
3. Roster sizes- Competition Committee recommends rosters of 12 to the extent possible- number of registrations will ultimately determine size of rosters and number of teams.
4. Players would like formal assignments for umpires.
5. Awards- Financial considerations will impact the amount of awards issued in all divisions.
AAA Hot Stove Notes 12-10-18
The following topics were main topics discussed at the Hot Stove Meeting:
1. Speeding up the game to get more innings/complete games-ideas included playing 2 innings in the field at a time, pitch count, 1-1 count (which Competition Committee recommends)
No resolution, members present are against 1-1 count and the other ideas discussed.
Emphasis will be placed on umpires to have teams "hustle" in & out.
2. The draw- need for process to be consistent or better communicated. On some days "chips" are pulled to play, other days chips are pulled to eliminate sign-ups. The most efficient means to get the draw should be the goal, but players need to know before chips get pulled what's happening.
3. Discussed late arriving "rostered players"- arriving after the draw. Suggestion presented included: The rostered player bats at the bottom of the line-up and will rotate in the field every other inning with the player drawn. There was no objection to this suggestion.
4. Umpires need/want a schedule of when they are to umpire.
AA Hot Stove Meeting 12-10-18
The following were main topics discussed at the Hot Stove Meeting:
1. Teams- if possible, need 6 teams in league to avoid "byes"
2. Pitching- major concern that there is a shortage of pitchers for AA.
PSS will attempt to draw interest in pitchers by conducting some pitching clinics prior to/and during Cactus season.
AA managers/coordinator will attempt to recruit any AAA pitchers who may be interested in full time pitching in AA.
3. Discussed using cones during Cactus to open up the field for some hitters.
4. Discussed the runner's responsibility to avoid contact. A suggestion was made to put chalk lines at 2nd & 3rd base for the runner to use. Initially it was discussed to use the lines for Cactus, however after deliberating after the Hot Stove meeting the Competition Committee has determined that using the lines would be a step-back towards the old run-thru rule and therefor more confusing to players and not enhance safety.
Continued umpire and player education on the nuances of avoiding will be provided, primarily by the Chief Umpire.
---
ATTENTION ALL PSS PLAYERS REMINDER:
HOT STOVE MEETING MONDAY DECEMBER 10TH @KEUEBLER FIELD OFFICE
We would like to encourage all participants but especially managers and potential managers if able to attend. The Hot Stove meetings provide all with an opportunity to have input on any current policies or proposed new policies, which may be tested during the Cactus season.
MAJORS @ 9AM
AAA @ 9:30AM
AA @ 11AM
Thank you
Competition Committee