K-9 Kool Hats wins A Division Playoff Championships.
On 9/19, K-9 Kool Hats defeated Final Score in the championship game 14-11. Leading the whole game, the Dogs
held off the open inning attempt of FS by limiting them to two runs. The game ended with a double play, the fourth of
the game by K-9 Hats.
It was a remarkable turnaround for the dogs who went from worst to first in the Playoffs . Congratulations to
the Playoff Champs…K-9 Kool Hats.
 
 Kneeling left to right:  Tim Carmichael, Chuck Hieb, Don Tijema, Bill McKnight, Donn Moseley-Sponsor, Howie Eisenmann
Standing left to right:   Mike Austin,Tom Townsend, Jack Wyatt, Doug Randall- Manager, Skip Kyle, Chris Wright
Division playoff action: 
————————————————————————————————————
Congratulations to Hepburn Capital
Fourth seed Hepburn Capital held off Second seed Wright Management 9 to 8 to become 2016 I League Summer Season Playoff Champions. Wright Management had the tying and the go ahead runs on base, bottom of the seventh, and failed to get them home. Hepburn Capital did not lose one game in their playoff run.
Standing: Phil Palmer, Lani Beach, Ed Fuentes, Rich Spencer, Rich Marcin, Mike Bassett (Mgr.), Frank Bott
Kneeling: Ken Williams, Doug Naig, June Cord, Doug Healey
I Division playoff action: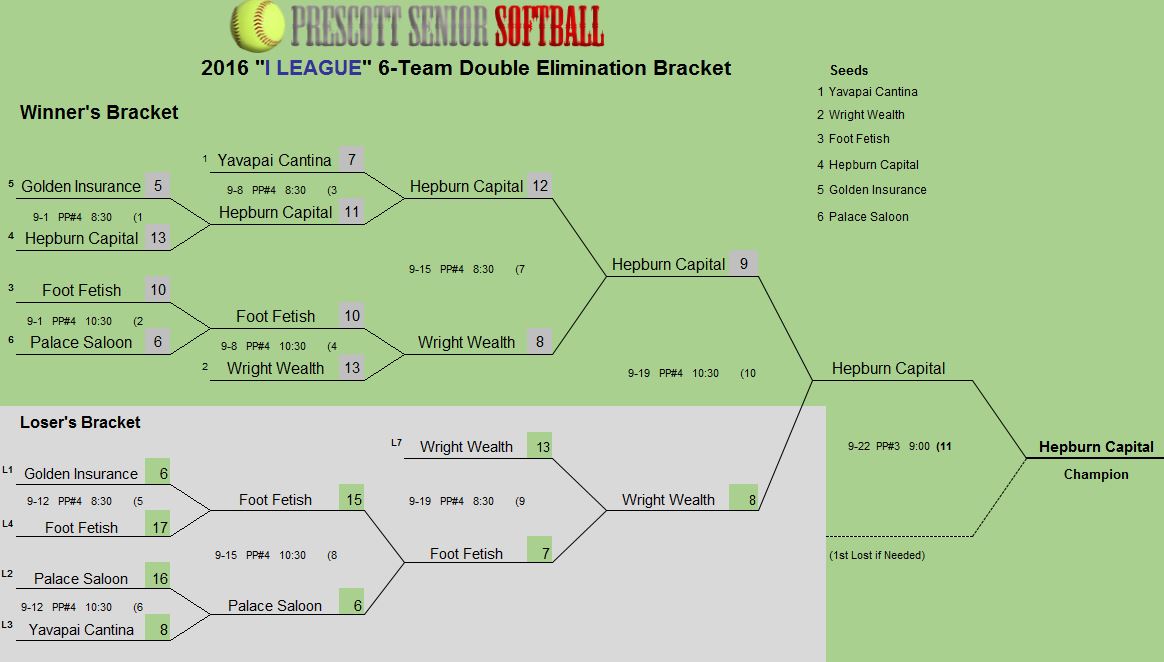 ————————————————————————————
Congratulations to RokZoo
Second seed RokZoo lost to Third seed RGB Restorations 7 to 19 requiring one more game to determine the B League Champion. RokZoo was leading most of the way (4 to 1) until RGB made a push in the 6th inning to close the gap to only two runs. The score 5 to 7, RGB up to bat, top of the seventh with bases loaded and two outs. . . . .  the next RGB batter grounded out ending their season chances at a championship.

Left to Right: Bob McBride, Jim Kelso, Rick Schirmer (Mgr.), Tina Medina, Mike Bests, Chuck Lynch,
Henry Cromeek, Sande Bobango. Not shown: Bill Bauder (Sponsor), Gerry Breeyear, Sue Smith

B Division playoff action: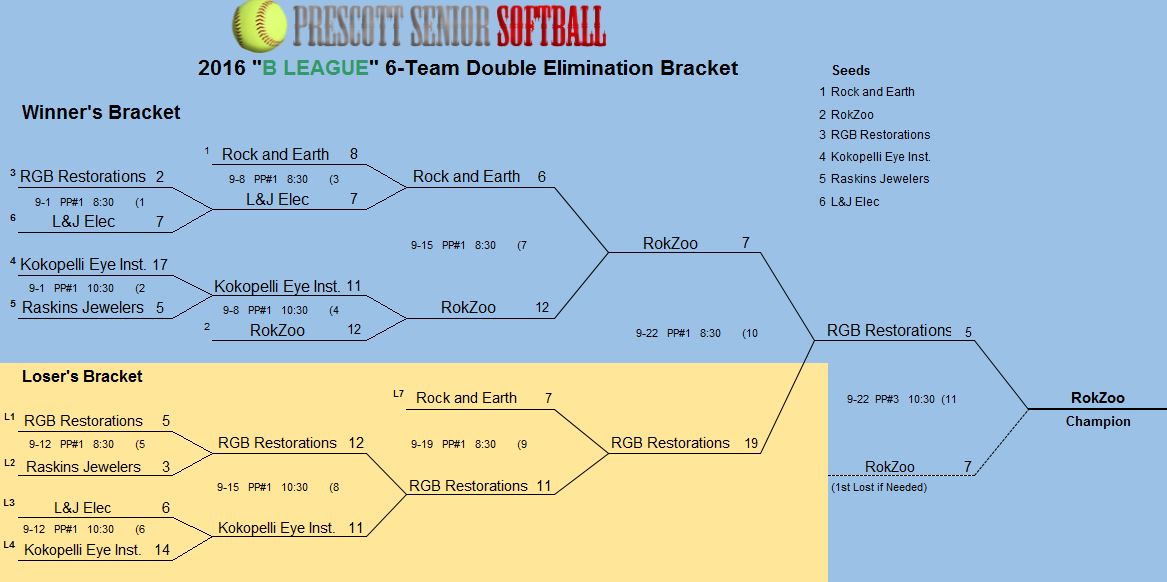 RokZoo and RGB Restorations playoff was rained out. The game will be resume at the top of the 6th inning on Monday September 26th at 10:00 am. RGB 13 RokZoo 5.