January 21, 2021
"Due to the uncertainty of the ongoing affects of the pandemic, and out of an abundance of caution, the 2021 Tobin-Glick tournament will not be held"
Lani L Beach
Director
12121
---
Managers: The Tobin-Glick today reluctantly decided to follow the trend across the country to not schedule events that would bring people together from across geographies, and are canceling this year's Memorial Tournament.  We wanted to provide as much notice as possible so you might be able to schedule into a local event for that time period.  These are indeed times for extraordinary actions. 
See you next year.
Lani L Beach T-G Director
Ken Alger Director 50's and 60's.
---
When the temperatures approach 100 degrees F° in the Valley, Senior Softball players throughout Arizona and the surrounding states, start thinking about the Tobin-Glick Tournament in the cool air of Prescott where the balls fly further. Well, this year it was really cool and balls were flying out of the four fields at Pioneer Park some into a strong wind.
The Champions of the Thursday / Friday Tobin Glick tournament are:
65's – Scottsdale AZ Ancients
70's AA/AAA – Pebble Creek Desert Rats
70's Majors – Phoenix Valley Vipers
 In a double elimination tournament local team Bucky's was one win away. All they had to do was beat AZ Ancients and the championship was theirs. In the 6th inning Bucky's shortstop Harold Hancock pulled off a triple play to end the inning. Then in the bottom of the seventh, the Ancients were down by two runs. With runners on second and third Bucky's elected to walk AZ Ancients 3rd hitter in their line-up setting up a force play. But clean-up hitter Mike Reuvers stroked a walk-off Grand Slam to win by two.  That forced the "if" game where the Ancients won handily 24-18.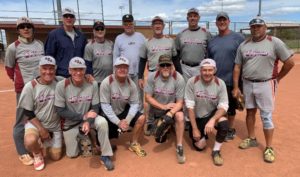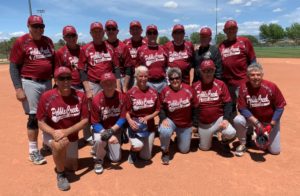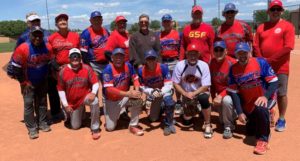 The winner from the morning tournament in the 50 year old Major's classification was "Unforgotten" who defeated "4 The Fallen" 26 to 25. "4 The Fallen" took a 5 run lead into the bottom of the seventh and since Unforgotten had reached their home run limit they were relegated to playing "small ball" and play they did driving in the winning run on a walk off single with two outs.
In the second game matching two AAA classification teams, Thunderstruck and Kingman, Kingman turned what looked like a MLB double play in the bottom of the sixth when shortstop Ron Reid made a diving stop on a ground ball and tossed the ball to second baseman Duane Flora for the second out. Then Flora, in a heads up play, threw to home for the third out to end the inning. Facing a 3 run
deficit to open the bottom of the seventh Thunderstruck scored two runs to bring it within one then Gary Dent hit a grand slam walk-off homer to win 23 to 20.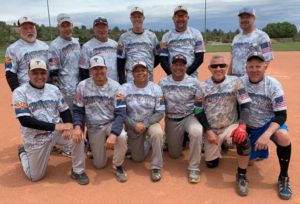 The 55/60 age group Majors and 60's age group AA/AAA were canceled due to rain, wind, and cold temperatures.