2023 Softball Season
Prescott Senior Softball will return to the fields at Pioneer Park on Monday, January 23. Weather permitting, there will be batting practice and/or pickup games from about 10 AM every Monday and Thursday. Pease do not go on the fields if the frost on the green areas has not fully thawed. If in doubt, check with a member of our Field Crew.
We expect Cactus League games to begin no later than March 6, with the regular summer season to follow on or about April 17.
Players are required to register, sign our waiver and pay. Please CLICK HERE for our "Player Info" page. Then download the "2023 Registration and Waiver" form and follow the instructions thereon.
We look forward to seeing you all at Pioneer Park beginning Monday, Jan 23.
---
2022 Awards Banquet
A good time was had by all at the banquet
We had a small table to remember those players that have passed on.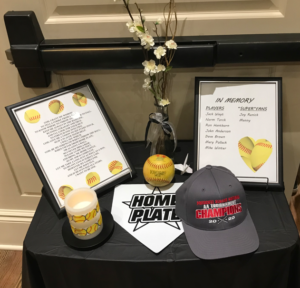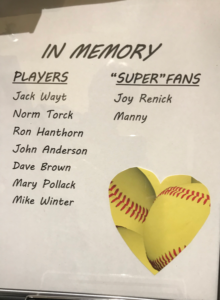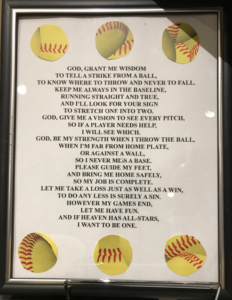 ---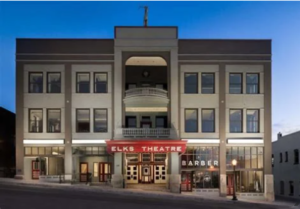 PRESCOTT SENIOR SOFTBALL

2022 ANNUAL AWARDS BANQUET
Saturday, OCTOBER 22, 2022
Location:       Elk's Theatre Building
                          117 E. Gurley 3rd floor
                    Prescott, Az. 86301

Time:             5:00 – 6:00 Social Hour
                                                   (alcohol is allowed) Bring Your Own
 Program:      6:00 P.M.   Dinner             
               7:00 P.M. Awards
                       Sponsors and Team Recognition 
                       Door Prizes and 50/50 Drawing

Reservations:  Contact: Janet Jones, 928-925-9054, Sharon Carlin, Sharon4847@aol.com, "M" Mendel, 928-771-2468.
This year at the banquet we are collecting food for the local food bank. Please bring nonperishable food items to be donated. Let's not let anyone go to bed hungry Thank You, The banquet committee.
---
PSS Golf Outing Results
While the weather was a little warm, everyone indicated they enjoyed the event.  Prizes were given for low gross and closest to the pin (men and women).  Winners were:
Low gross with a score of 67:
Bob Mucha, Brian Redmon, Tom Payson and Joe Zubek
Closest to the Pin – Men:  Charlie Morgan
Closest to the Pin – Women:  Sharon Carlin
This year's golf outing at Antelope Hills Golf Course had 30 participants.  This is down from previous years, and I would appreciate any input or ideas as to how we can increase the participation.  We changed the venue from StoneRidge (since many found it too challenging) to Antelope Hills, without the anticipated increase in participants.  If you have any ideas for next year's outing, please email Sharon Carlin at xxxx@aol.com. 
Thanks to all who participated.
---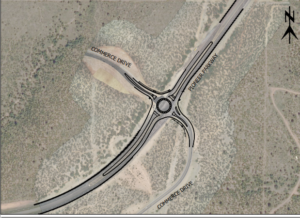 Please be advised that CLM Earthmovers, LLC in conjunction with Yavapai County, will be performing roadwork on the Pioneer Parkway and Commerce Drive intersection. Construction will begin July 18, 2022, continuing through February 2023.
Road construction will consist of building a multi-lane roundabout on Pioneer Parkway at Commerce Drive. Work will include importing materials to raise and level the intersection, milling and paving, drainage improvements, lighting improvements, curb and sidewalk installation, and miscellaneous landscaping.
During critical periods of construction, Commerce Drive will be closed to through traffic and re-opened as soon as possible. During closures, motorists will need to utilize alternate routes to access pioneer park and addresses along Commerce Dr. One lane of traffic in each direction will remain open at all times on Pioneer Parkway; however, motorists will encounter lane restrictions, lane diversions, reduced speeds, and flagging operations throughout the work zone. Motorists should expect minor delays and allow extra time to get through the construction area. Please follow all traffic control devices when traveling through the work zone.
For additional information please contact Yavapai County Public Works at 928-771-3183
---
Prescott Senior Softball Golf Outing
The PSS Golf Outing is scheduled for Wednesday, July 20 at Antelope Hills Golf Course. 8 a.m. shotgun start.
Format is a four person scramble.
Cost is $70 including golf, cart and lunch
Prizes will be distributed for net play and closest to the pin.
Complete information regarding the event (including registration and making payment) will be provided in a flyer that will be distributed this Thursday, June 30
If you have any questions, contact Sharon Carlin at xxxx@aol.com  or  928-910-3118, or on the field in the AA league.
---
PICNIC CHANGE
JUNE 15TH, 2022
WILL BE HAVING BBQ CHICKEN AND
PORK
(NO NEED TO SELECT CHICKEN TYPE)
NEED FORMS BACK ASAP GIVE THE TO
YOUR COACH OR CONTACT ME JANET @
928-925-9054
VOLUNTEERS NEEDED AT 9:00 AM
PICNIC STARTS AT 11:00 AM
IF YOUR PARTICIPATING IN THE
HORSESHOE TOURNAMENT
SIGN UP WITH
KURK GERKEN AND KEN KASTERI
---
Nice article in Prescott Healthy Living Magazine about Prescott Senior Softball.
---
PSS league players,
Steve Imlay / SLI  academy has agreed to put on a one day hitting clinic in
Prescott Tuesday May 17
. The clinic will be open to all league players.
Cost is $250
. For those of you who are not familiar with Steve and his clinics more info can be found here 
https://sliacademy.com
.
If the name Steve Imlay sounds familiar it may very well be that his name is on the senior bat you are using. Steve's biography ..
Senior Softball Player Hall of Fame
State of Indiana ASA Hall of Fame
FSSA Legends Hall of Fame
Signed a Softball hitting Pro contract with Adidas.
SLi has been working with Softball Magazine as a Pro hitting Instructor at their Spring Training and Senior Softball Camp for last two years.
Steven has been on Ken Van Bogaerts Swing Makeover YouTube series as an advisory staff member for over 10 years.
To sign up go to  https://sliacademy.com/clinics/   and click for Prescott Clinic. 
---
Cactus Starts February 28th
Cactus Ends April 15th
Summer Begins April 18th
Summer Ends August 26th
Playoffs Start August 29th
Fall Ball Starts September 19
Fall Ball Ends November 21
Park closed until late January